Antineutrino Monitoring - A Real-World Application
In an article selected for Physical Review Focus, CNP members Eric Christensen, Patrick Huber and Patrick Jaffke collaborate with recent CNP visitor Thomas Shea to discuss the potential of reactor antineutrino monitoring as a non-proliferation measure. Using Iran's heavy water reactor at Arak as a test case, they showed that a relatively small and portable above-ground, detector has the potential to monitor plutonium production or diversion from declared inventories, and to re-establish continuity of knowledge in the event of a reactor shutdown. The authors advocate further research and development.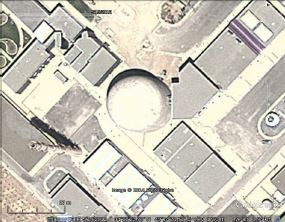 Satellite image of the heavy water reactor at Arak, Iran.
---
Archived Feature Articles
more stores